Cobalt alloy pipe(ELGILOY/MP35N)
Cobalt alloy pipe(ELGILOY/MP35N)
What is ELGILOY? It is tough, corrosion resistant and certified biocompatible alloy.
The birth of cobalt alloy (ELGILOY※1)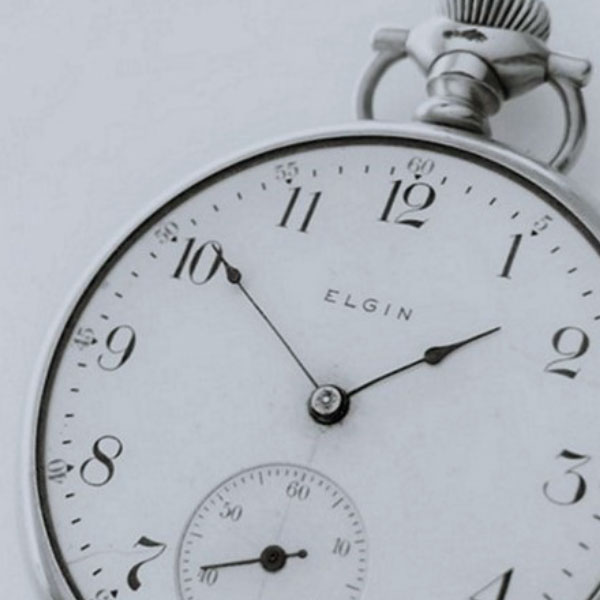 The birth of cobalt alloy (ELGILOY) relates to the long-established watch maker ELGIN.
Before World War Ⅱ, ELGIN had manufactured about half number of watches in the United States. But in the severe environments under the War, the inside parts of those watches had corroded and broken down.
It made ELGIN start to develop alloy watch springs that are able to work in humid and hot environments. This was the birth of ELGILOY alloy (Co 40%,Cr 20%,Ni 15%,Mo 7%).
Today, it is widely used not only for watches but also for industrial springs and medical wires.
※1 ELGILOY® is a registered trademark of Elgiloy Specialty Metals.
Development of ELGILOY small diameter pipe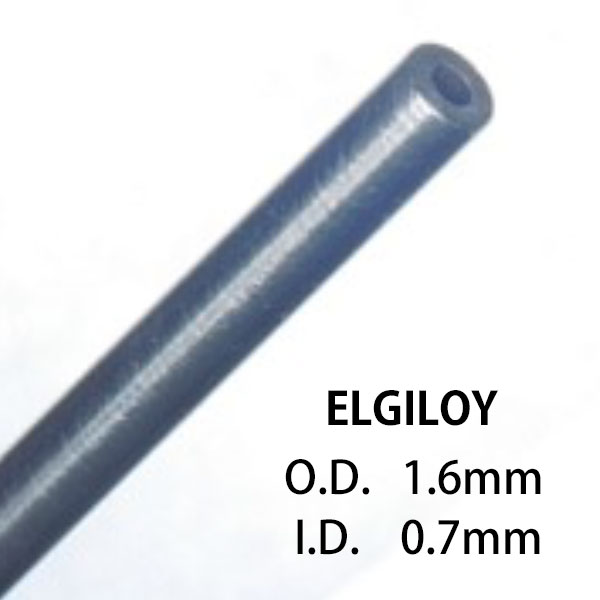 ELGILOY is biocompatible certified material with excellent toughness, corrosion resistance, and more abrasion resistance than Titanium's.
The picture on the right shows the first small diameter ELGILOY pipe (O.D. 1.6 mm, I.D. 0.7 mm). Measuring the strength using our universal tester, we have found that this thin pipe has about 2.5 times tensile stregth (2470Mpa) more than stainless steel has.

From comparisan data of materials with similar size uesd by test instrument.
Laser processing examples of small diameter ELGILOY pipe
We have welded different kinds of metals of ELGILOY and SUS304 by a laser welder. The tensile strength on the welding point is 487MPa, which is nearly equal to stainless steel.
Joint of different kinds of metals SUS304 and ELGILOY.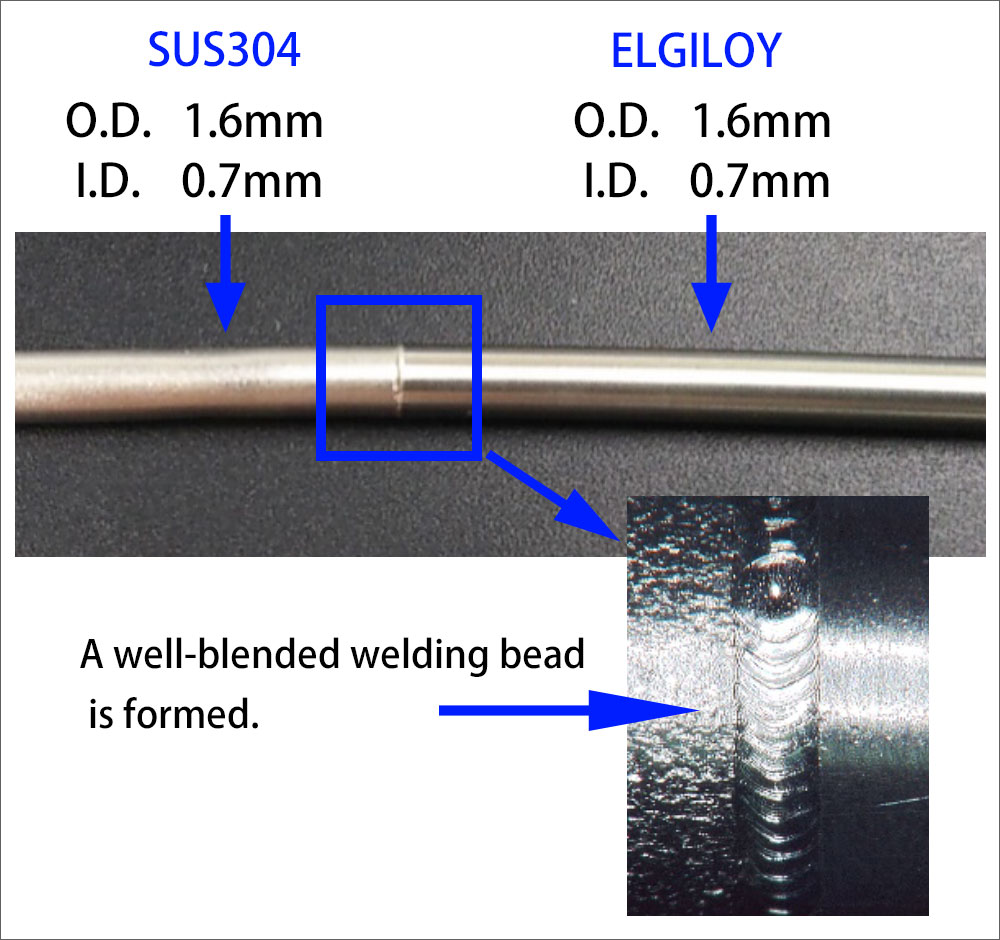 We have made a slant cutting on the tip, a hole drilling, spiral grooves by a fiber laser welder, resulting the tough ELGILOY pipe which can be bent flexibly.
Slant cutting on the tip, a hole drilling, and spiral grooves.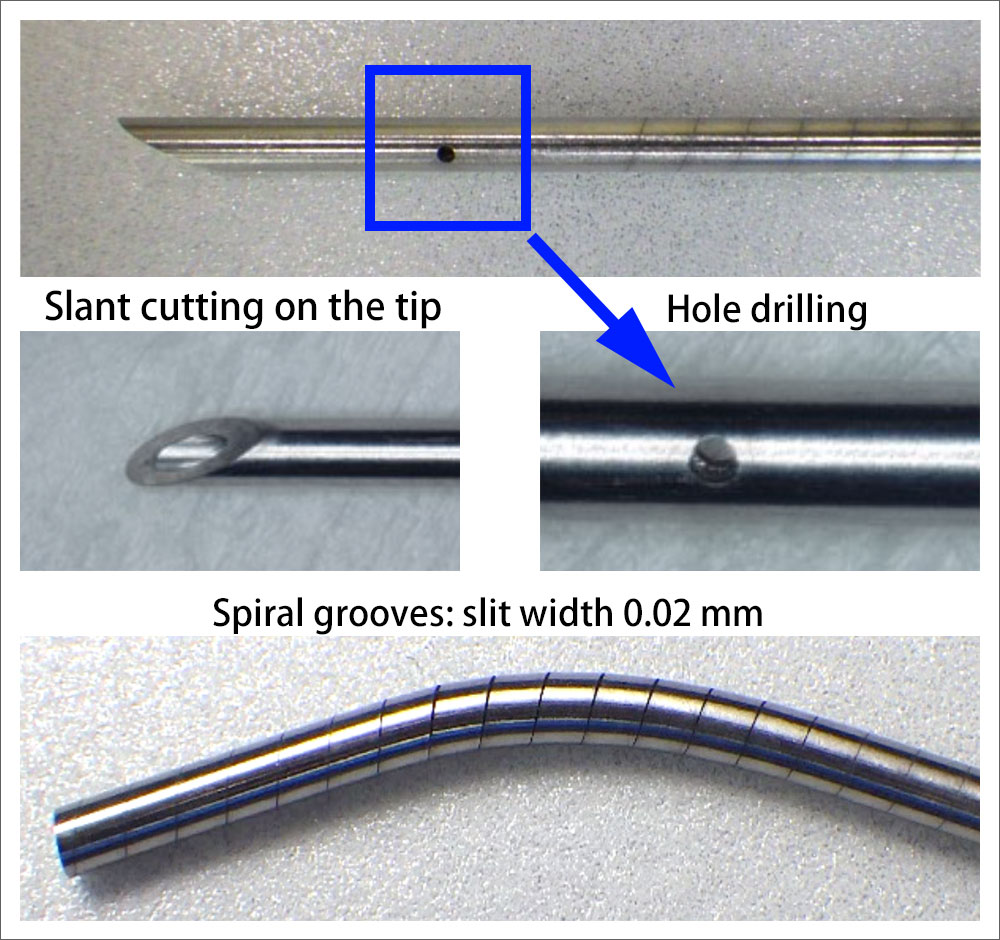 You can produce various components and products by laser welding.
According to your requests, we can offer you shapes such as small wire and plate shape of material forms.
The birth of Cobalt alloy MP35N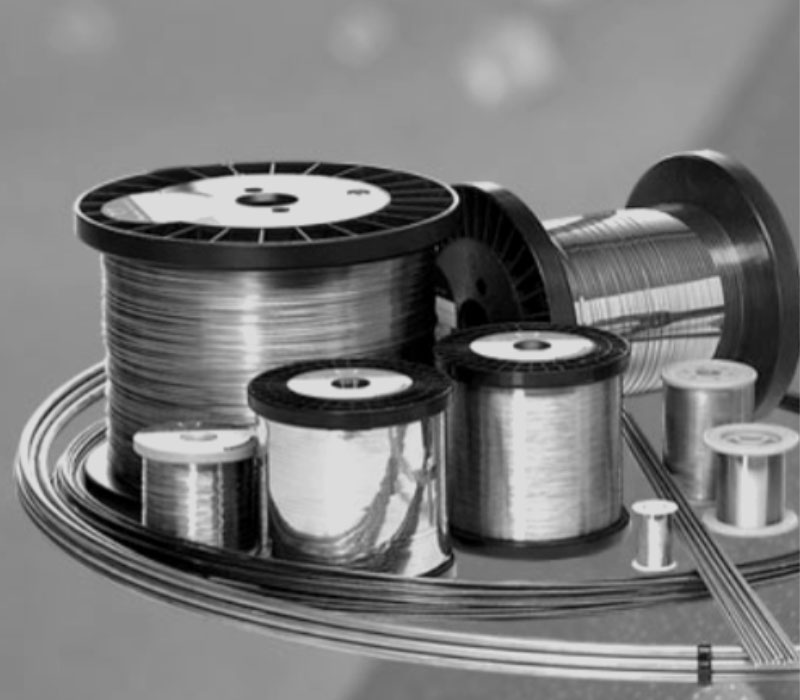 In 1970s, a cobalt alloy having more biocompatibility than ELGILOY has was develpoed by an airplane screw manufacturer, SPS Technologies.
Today, MP35N is widely used for medical equipment including various kinds of stents. Wider range of the material shapes is available than of ELGILOY; wires, plates, sheets, and shafts. These wide range of the material allows you to produce various biocompatible products. We can provide you with some processes including cutting and heat treatment for wires.
Chemical components of ELGILOY(※1) and MP35N(※2)
ELGILOY and MP35N, biocompatible and auhenticated, can be applied to medical eqipments and dental products.
ELGILOY is inexpensive in comparison with cobalt alloys and their equivalent. We recommend you with assurance to try to use. Iron (Fe) content of MP35N is less than 1%, lower than of ELGILOY.

Characteristics of ELGILOY
®

and MP35N

®

Cobalt alloys, ELGILOY and MP35N, have high strength, high hardness, high resilience, non magnetism, and exellent wear resistance, as well as excellent workability.

Corrosion resistance of ELGILOY
®

and MP35N

®

ELGILOY and MP35N have high corrosion resistance to hydrogen sulfide, salt water, and other choride liquid solutions. In the sea water and other severe environments, they show exellent resistance to deposit corrosion and stress corrosion cracking.

※1) ELGILOY® is a registered trademark of Elgiloy Specialty Metals.
※2) MP35N® is a registered trademark of SPS Technologies.
excellent:sufficent corrosion resistance<0.05mm/year
good:fairly corrosion resistance 0.05~0.5mm/year
moderate:small corrosion resistance 0.55~1.27mm/year
non: non corrosion resistance>1.27mm/year