HOME > about_titanium > What is titanium? Advantage for βtitanium : Light! Strong! Materials with Excellent Corrosion Resistance
What is titanium? Advantage for βtitanium : Light! Strong! Materials with Excellent Corrosion Resistance
What is titanium? Advantage for βtitanium : Light! Strong! Materials with Excellent Corrosion Resistance
update :
Birth of titanium
Titanium, a metal that is attracting the greatest attention today. The history of the relationship between humanity and metals is surprisingly shallow compared to other metals. 1791 British pastor William Greger accidentally discovered "black sand (ore)" that differs from iron. The element was named "menakite". Four years later, a 1795-year German chemical, Martin Claprote, discovered the same element in the mineral rutile. "From the Greek mythological brave giant ""Titan,"" we named it ""Titanium,"" and mankind finally came across titanium." Since then, it has been refined and the industrial mass production method called the "crawler method" which is adopted even today has been established, and titanium has been utilized worldwide in 1948! Titanium still has unlimited potential in its new 60-year history. We are pursuing such materials at the top level in FUTA and Q.
Origin of titanium
Titanium ore, sponge titanium, titanium ingot, rolling, titanium (wire and plate materials)
《What Metal of Titanium?》
In terms of the three major strengths of titanium,"Light!", "Strong!" and "Excellent corrosion resistance!"And are listed.
[Reference] Characteristics of Titanium Alloy (β Titanium)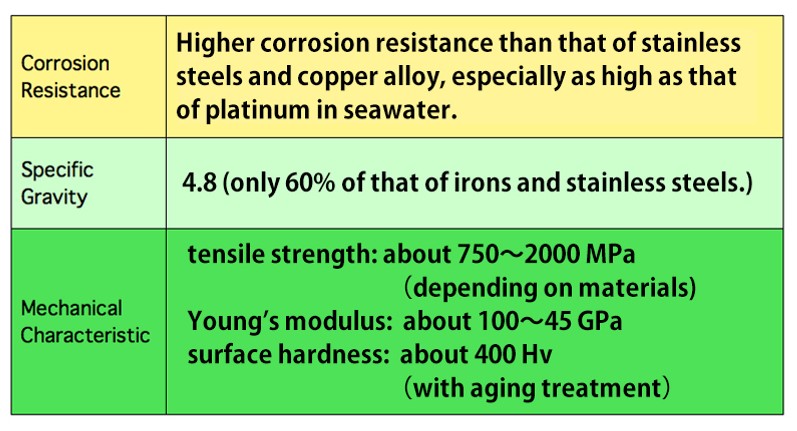 ☝ light! The ratio of pure titanium is 4.51 (4.8 for titanium alloys), which is the intermediate between iron and aluminum.It is about 60% lighter than iron and about half that of copper.
☝strong! 270 to 750MPa for titanium with pure pull strength (typical steel materials: About 750 MPa), especially for titanium alloys, it becomes 750 to 2000 MPa, The specific strength (strength per density) is overwhelmingly superior.
☝Excellent in and corrosion resistance!  In seawater, it is comparable to platinum and superior to other major metals.
» Comparison table of corrosion resistance of titanium to corrosive medium
In addition
! Non-magnetic
High melting point (1670°C)
! Line expansion coefficient is small.
! Heat Conduct Ratio is Small
! Electric resistance is large.
Low Young's modulus (soft spring)
There are other features.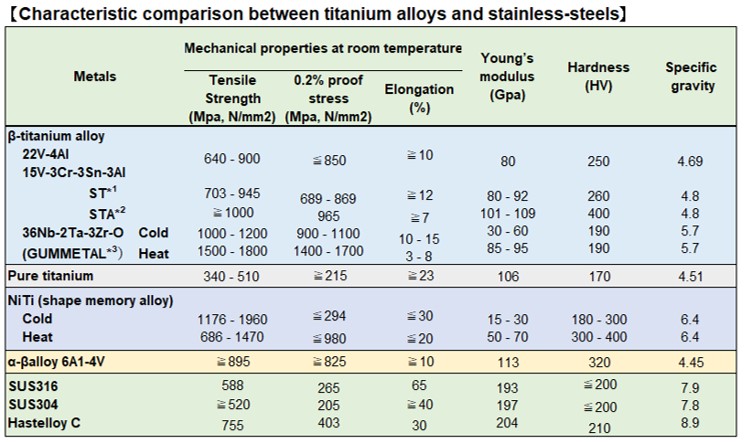 βtitanium of FUTA・Q
Due to its excellent corrosion resistance, strength and lightness, titanium has been utilized in industrial fields such as aircraft parts and chemical plants. And now titanium
・ Due to its "light," "strong," and "non-magnetic" features,Medical equipment field
・ Due to its features of "nontoxic" and "bio-compatibility,"Medical equipment and welfare fields
And it is expected to be utilized.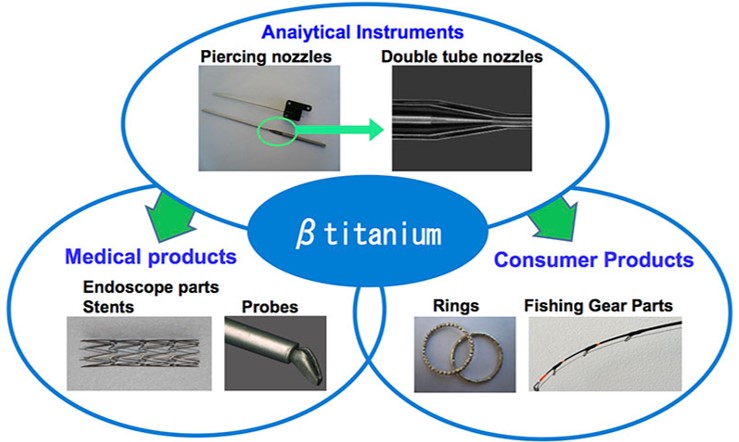 In FUTA Q, we propose to develop new products using our proprietary micro-processing technology and composite technology (compound technology), which enables our cutting-edge facilities.
"Realize possibility (Potential)"
Why don't you work with us to make things that will change the future?