HOME > Processing Examples
Processing Examples
Processing Examples
update :
Medical Industry
Long tapered processing
(Centerless grinding)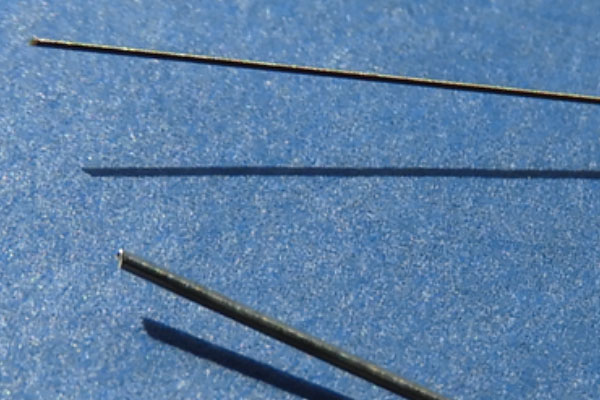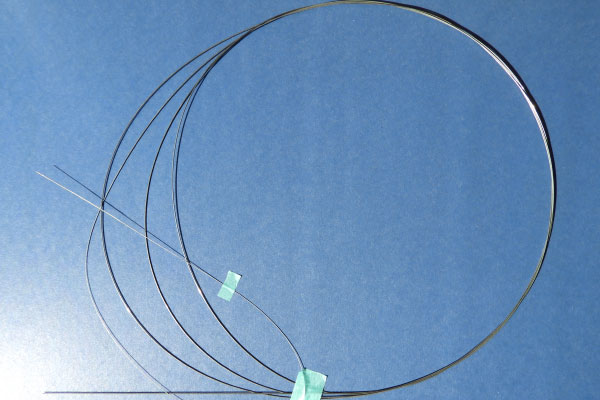 One-side centerless-grinding with 2 m long wire of SUS304.
Stainless steel wire with the diameter of 0.4 mm before grinding, 0.2 mm after grinding, and the tapered length of 300 mm.
Three-side tip cutting for a needle having the diameter of 0.5 mm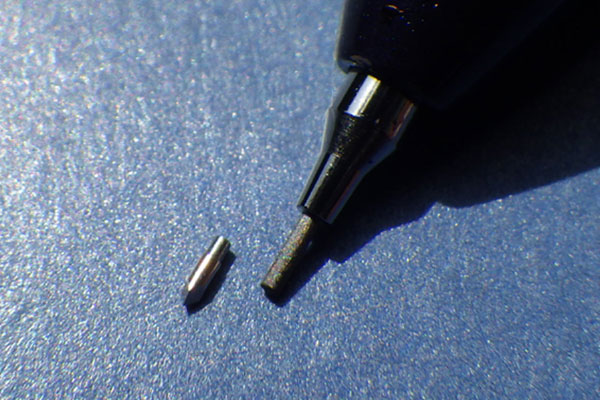 The three sides of a needle tip having the diameter of 0.5 mm is cut to the size of a mechanical pencil lead.
Micro-components
(Medical parts)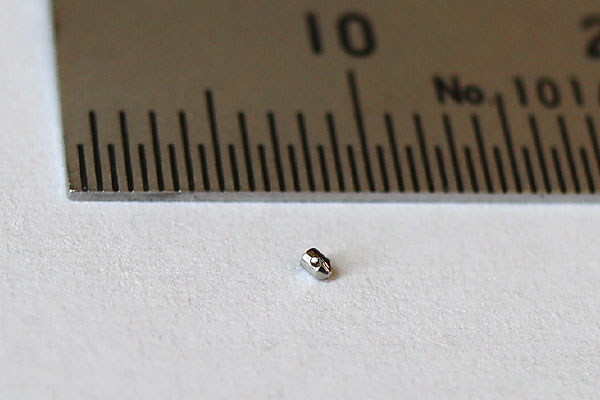 Fine processing for micro-components is available with various materials including titanium or ceramic.
Nitinol or shape memory alloy (Fluorine coating for the tip area)
A NiTi wire, memorizing its original shape by being heat-treated, is used for medical treatment tools.
NiTi wire
(0.13 mm to 5.0 mm in diameter)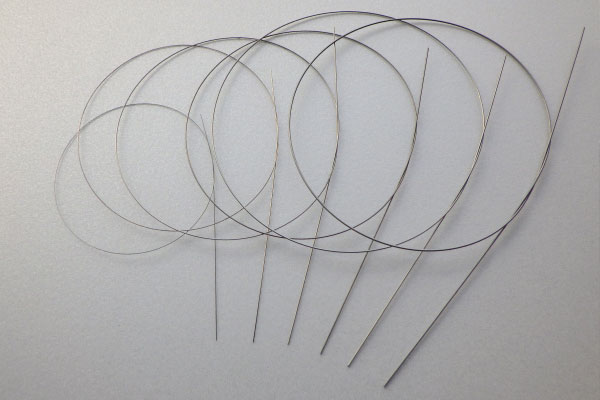 Wires, sheets and small pipes made of NiTi alloy having shape memory function and superelastic property are available.
Surgical forceps
(DraCo®)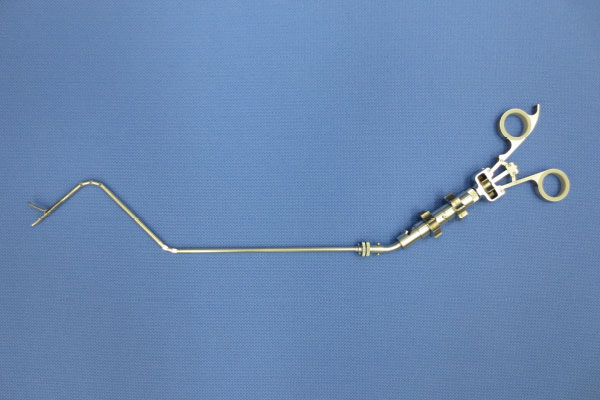 The single-port laparoscopic surgical forceps, making the best use of characteristics of β-titanium, has three angel-adjustable elbows and a rotatable gripper at the tip end.
Micro forceps
(Titanium fine process)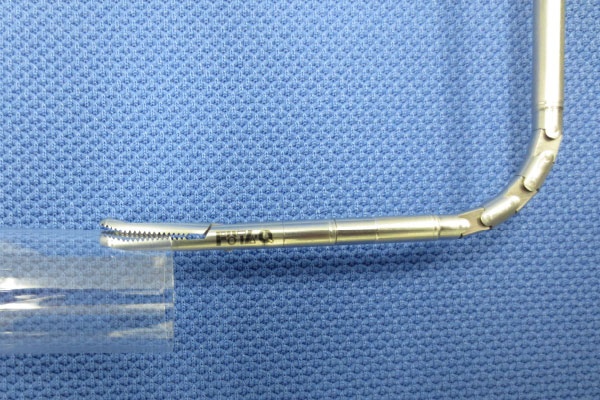 In-house assembling of precision components shaved out of titanium or other hard-to-cut material enables a pair of forceps to have excellent adhesive strength and high gripping performance.
Machining center
(Five-axis high precision machining center)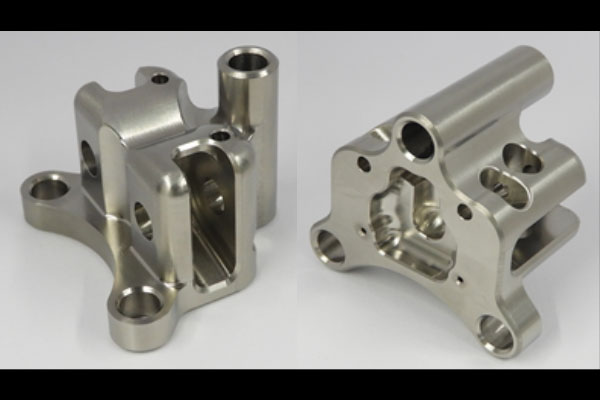 Processed samples of Ti-6AL-4V, one of titanium alloys, demonstrate our complex technologies combining several machining processes including
Fine processing and CNC automatic lathe (E.g., catheter)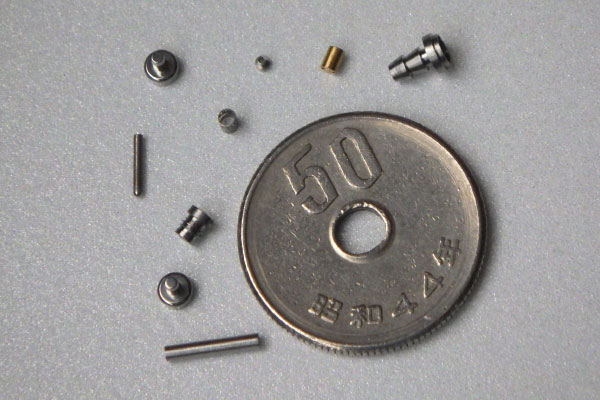 The Swiss type automatic lathe can continuously process a long rod form material. The drilling process can make a hole with the minimum diameter of 0.03 mm.
Analysis Industry
Thick-wall pipes
(Stainless steel, titanium, cobalt, etc.)

Various thick-wall pipes can be produced as well as small pipes. A wide range of optional processes are also available such as centerless grinding of the outer surface, inner surface polishing, bending.
Linear processing for pipes
(E.g., β-titanium pipe)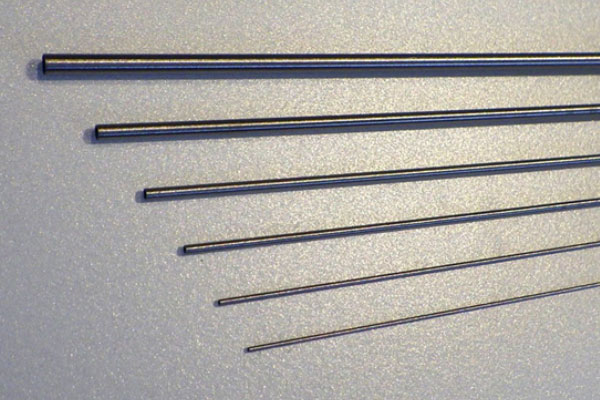 FUTA-Q have succeeded in pipe making of highly-strengthened β-titanium alloy by stabilizing the metallic structure with our unique technology. Superfine tubes in gage sizes are stocked for sale.
Swaging process for tapered nozzles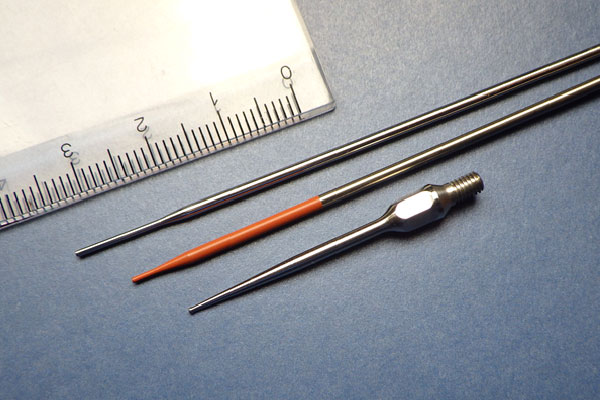 Swaging is a metal forming method that is used to reduce a rod, wire or tube by a rapid succession of hammer strikes instead of cutting. It makes wrinkles on the inner surface which degrade the inner surface roughness. This inner surface can be finished to mirror-surface with FUTA-Q's unique technique.
Lancet processing for a needle tip
(A small pipe and a rice grain)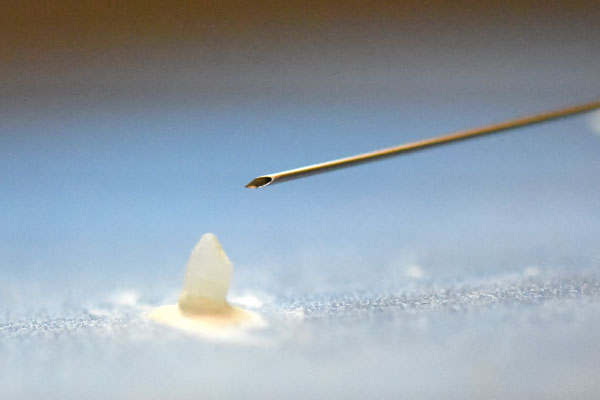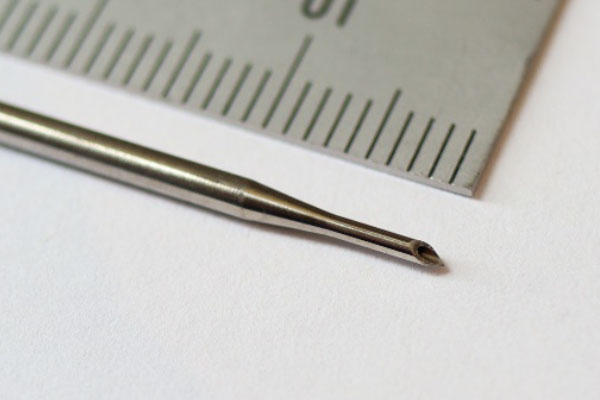 The lancet processing, or diagonal cutting, for a small needle is available. Lancet cutting is applied to an injection needle to have the smooth puncture into a rubber cap of a vial.
Nozzle having sensor function
(With a temperature sensor and a heater)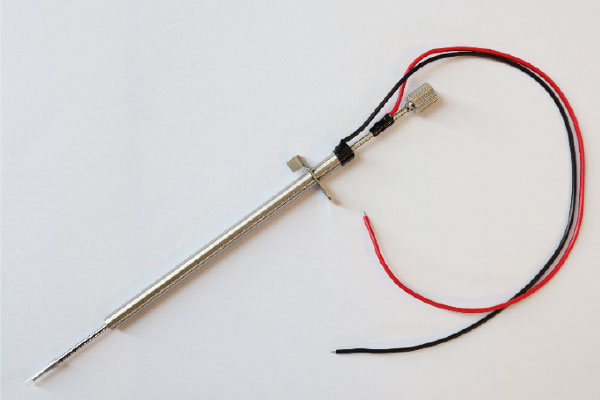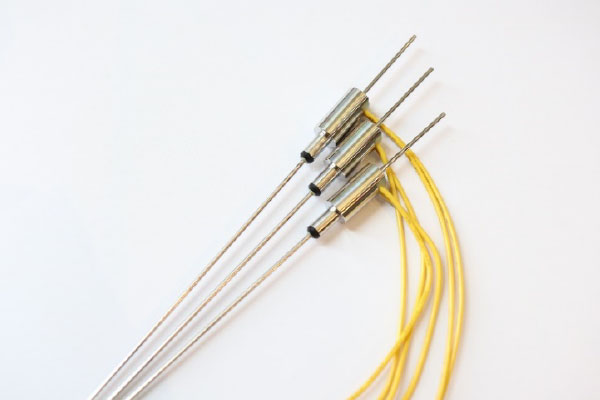 A temperature sensor, a heater, and liquid surface sensors can be incorporated into a needle.
A nozzle consisting two or three nozzles is also available, in which each nozzle aspirates, dispenses, and releases air separately.
Hole making at nozzle tip
(The radiation angle is 360°)

This nozzle has six holes at the tip end to radially jet a liquid. The holes are drilled in high precision.
Laser welding
(Linea or rotating welding)
A small injection needle with the diameter of 0.5 mm can be welded without remarkable welding marks left.
Laser welding is suitable for welding of thin wall pipes.
Brazing
(Welding of the side surfaces of pipes)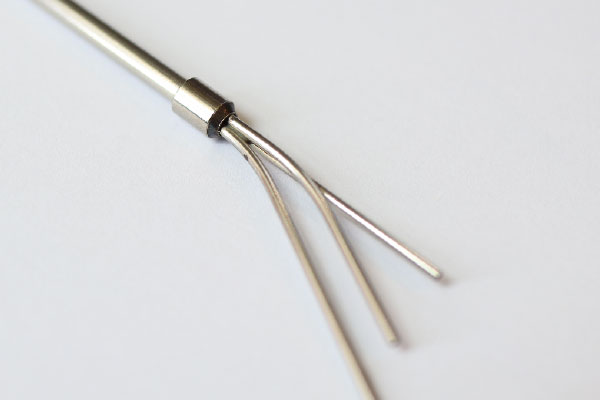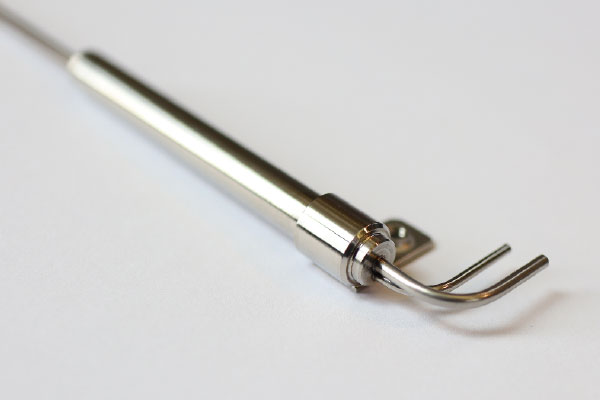 Brazing can relatively easily weld a complex structure or thin metal sheets which is not suitable for welding, because of its characteristics of non-fusion joining.
Thin film fluorine coating
(FC-180 coating)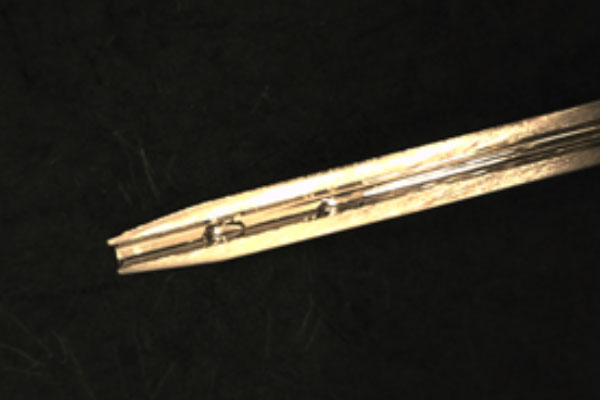 Coating is effective for improving repellency or preventing creeping-up of a liquid. FC-180 coating, having no-color and transparency, high film adhesion strength, high chemical resistance, and thin coating thickness of 1 μm or less, is suitable for parts repeatably used.
PTFE coating
(Fluorine-based coating)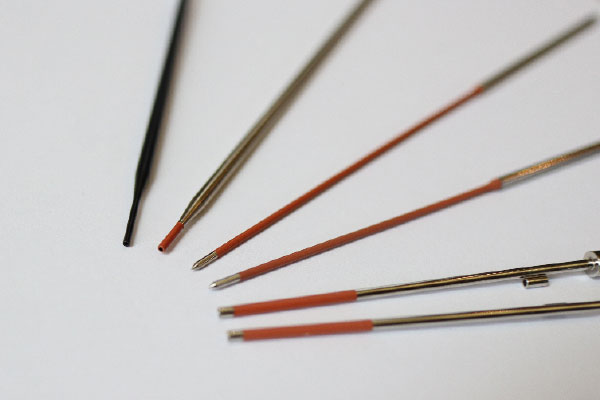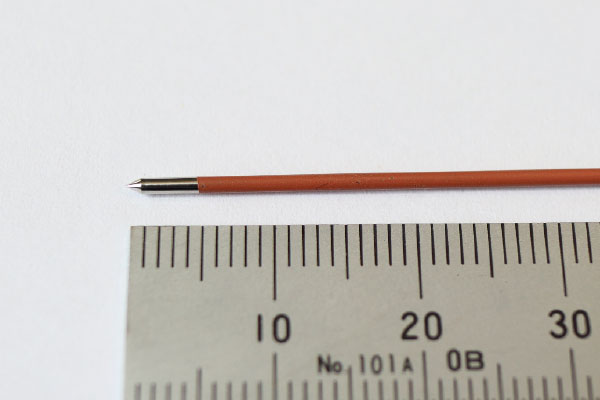 This coating has heat-resisting, electric non-conductive, water/oil repellent properties of fluorine resin. We will offer you the best suitable kind of PTFE coatings for your purpose.
Semiconductor Industry
Fiber laser processing
(A plate with 90 mm long and 55 mm width with 1.0 mm thickness)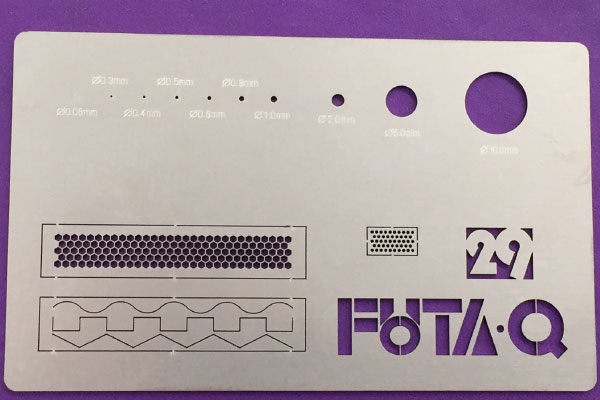 The photo below shows the laser processed sample with 1 mm thickness having holes with the minimum diameter of 0.06 mm.
Femtosecond laser processing
(Through holes with 0.3 mm in diameter)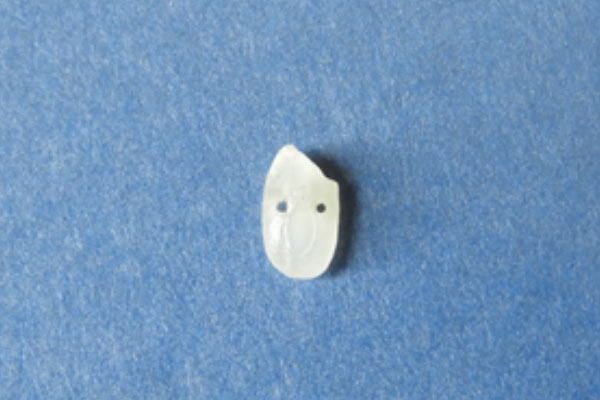 Two through holes are made on a rise grain. Laser machine can process various materials other than metals such as glass, silicon, plastics.
Femtosecond laser processing
(Periodic nanostructure formation)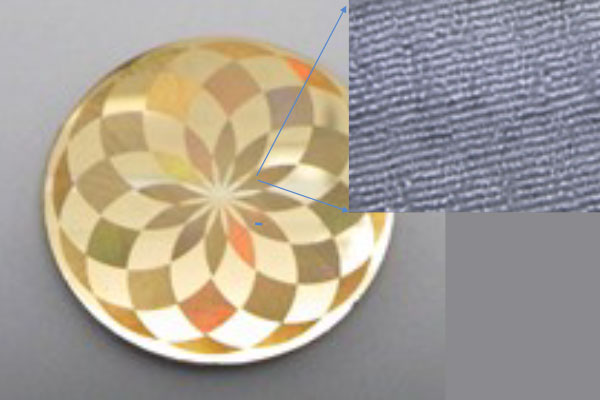 Femtosecond laser can form a periodic nanostructure, whose surface shows various color patterns, by utilizing the induce period of a pulse laser.
Femtosecond laser processing
(Resin)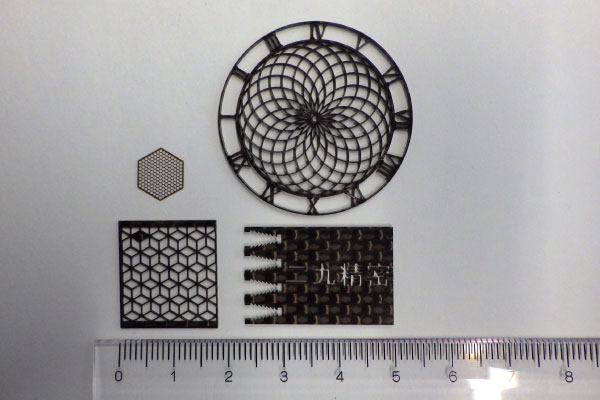 Femtosecond laser can process metals like NiTi alloys that apt to be affected by heat and non-metallic materials like ceramics or glass that is hardly absorb heat.
Mirror surface finishing
(For semiconductor equipment)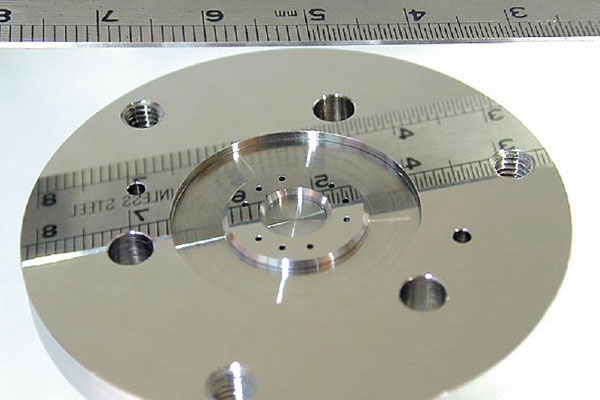 With mirror surface finishing, the surface can have the roughness of Ra 0.03 at best for the joining surface requiring air-tight function or the sealing surface of the sliding part of a selector valve.
Needle tip forming
(Two or three side cutting)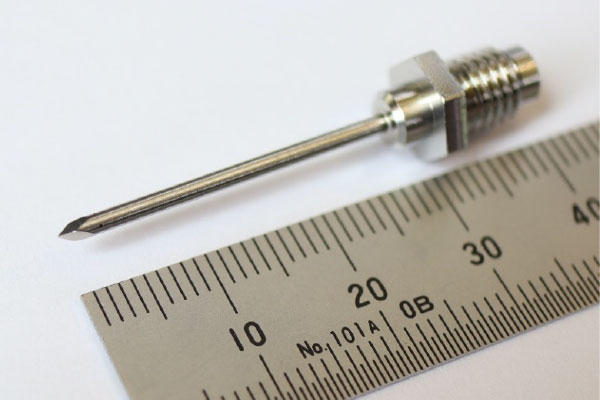 Our dedicated blade edging machine and the blade edging robot developed in-house can conduct two or three side cutting at a needle tip.
Industrial Equipment
Semiconductor equip.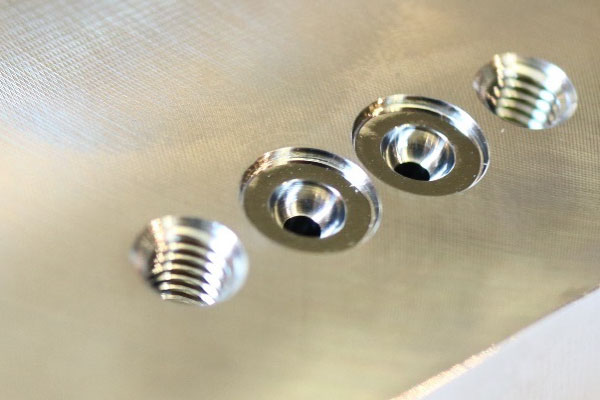 The bottom of the counterbored part is finished with burnishing to have the harder surface and the surface roughness of Ra 0.04 or less.
Semiconductor equip.

The sealing surface at the edge of a part is finished with burnishing to have the harder surface and the surface roughness of Ra 0.04 or less for a metal seal.
Semiconductor equip.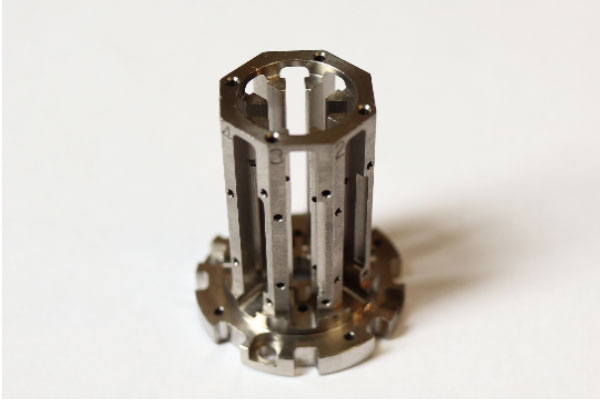 The sample product made of titanium having the height of 45 mm, which is processed with a nine-axis machining center to have a complex shape.
Semiconductor equip.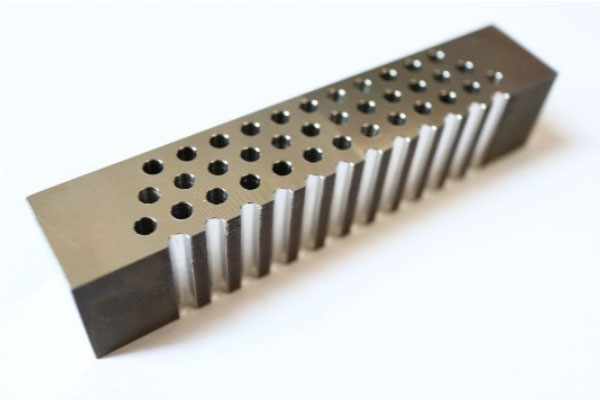 Many holes with 2 mm in diameter are drilled at even intervals on a stainless-steel block. All holes are drilled parallelly through the block without the deviation of a drill.
Analysis equip.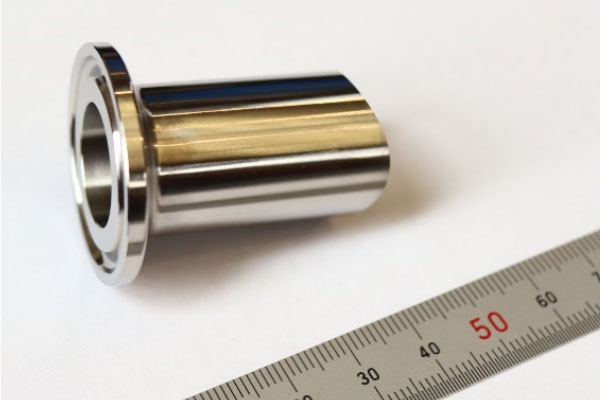 This is a ferrule (15A) made of titanium, which is very light and tough. This can be finished for sanitary use.
Deep small holes for medica use

A deep small hole having the aspect ratio of 20 to 30 is available, with the angularity of 0.05 mm, the inner-surface roughness of Ra 0.1, and the stepless inner surface at the tip.
Aspect ratio: The ratio between the depth of the hole and the diameter of the hole (hole depth to hole diameter)
Analysis equip.

Column end-fitting part

Oblique holes with 0.2 mm in diameter are arranged at equal angels in circumferential direction with high accuracy.
Analysis equip.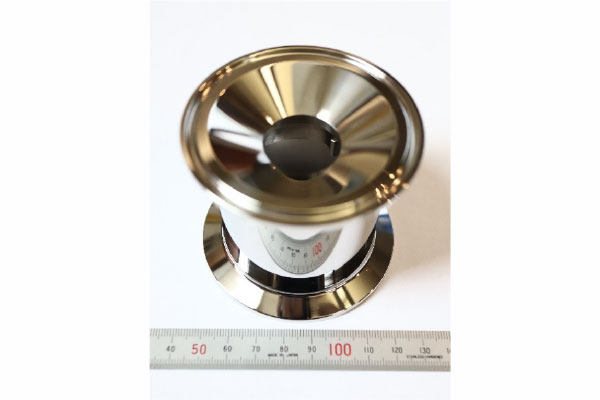 This connecting part for a sanitary pipe is made based on the ISO standard for ferrule.
Medical equip.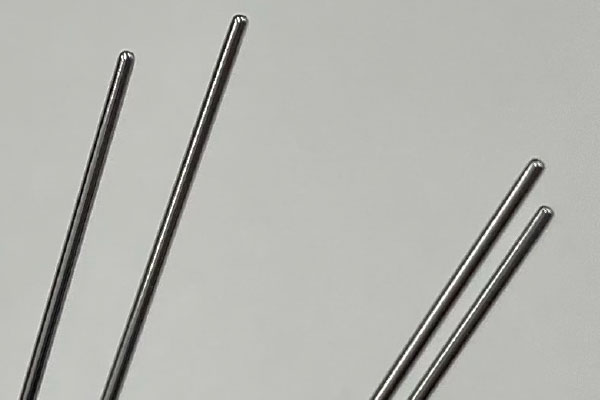 The tip of a pipe with 0.6 mm in diameter is sealed and finished in round shape.
Semiconductor equip.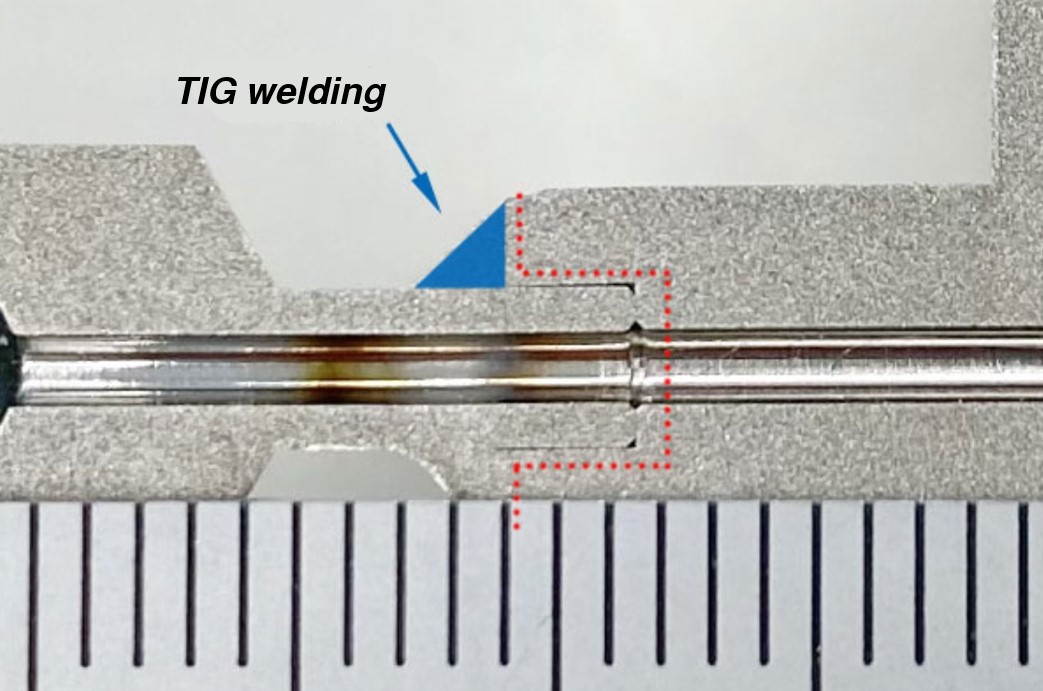 TIG welding can be applied to micro components.
Semiconductor equip.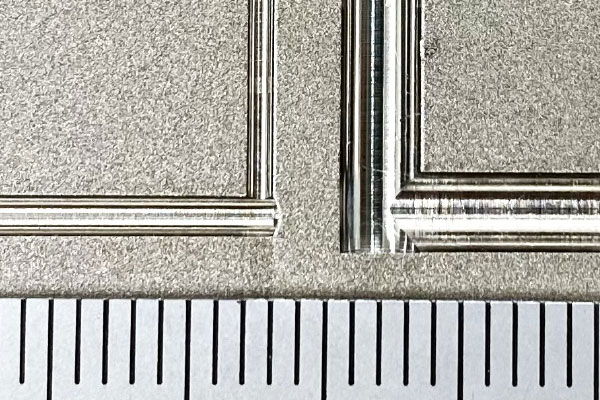 The dead volume at the junction area of the small holes is minimized.