β-titanium pipes
β-titanium pipes
From Kyoto toward the world market! β-titanium pipes have suppleness just like a bamboo, as well as light weight and toughness!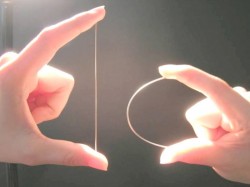 The titanium is a higher-performance material having lighter, stronger, and more corrosion resistant properties than the stainless-steel has. Recently, high-strength titanium alloys (β-titanium) have been widely used. FUTA-Q has succeeded in fabricating β-titanium pipes by stabling the metal structure, enjoying a high evaluation from all over the world.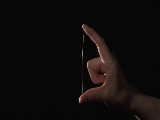 Flexible and tough β-titanium pipe
[Video clip of β-titanium pipe]
FUTA-Q are manufacturing and selling "β-titanium pipes" which have suppleness like a bamboo, difficulty in bending like NiTi shape memory alloy, lightness, and toughness. (Even if bended, it can restore to the original shape.)
Characteristics of FUTA-Q β-titanium pipes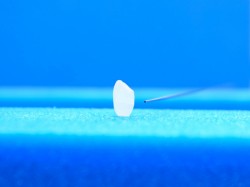 The β-titanium alloy features high tensile strength, outstanding spring property (a low Young's modulus), and non-magnetic property, in addition to its lightness and high corrosion resistance of pure-titanium characteristics. Biocompatible rubber metals 15-5-3 is also available (approved as the orthodontic wires).
<Corrosion resistance>
The corrosion resistance is better than that of stainless-steel or cupper alloys under almost all circumstances, especially in sea-water in which it is an equivalent to that of platinum.
        » 「 Table "Corrosion Resistance of Titanium"」
<Specific gravity>
4.8, which is 60% of that of iron or stainless-steel.
<Physical properties>
Tensile strength: 750 – 2000 MPa (having a different value its compositions)
Young's Modulus: 100 – 45G Pa
Surface hardness: about 400 Hv (after aging treatment)
        » 「Table "Characteristics Comparison between Titanium Alloys and Stainless Steels"」
         ※Biocompatible one is also available.
<Materials having the production history> rubber metal, BS titanium, DAT51, 15-3-3-3
<Smallest manufacturable size>  0.5 mm in OD and 0.3 mm in ID with a wall thickness of 0.1 mm
Titanium is generally considered as a hard-to-machining material. With our technologies, however, we can process it in various processes such as laser welding, inner surface polishing, swaging, fine hole drilling as well as combined machining processing.
The lead time for manufacturing is three weeks at shortest for an order with the total length of the minimum order of 1 m.
Please feel free to ask for other pipe sizes. (The manufacturing time depends on the sizes.)
Vertical load resistance test of a β-titanium pipe and stainless-steel pipe
The β-titanium pipe is hardly bent, light, and tough just like shape memory alloy.
Advantages of β-titanium
Having 40% lower specific gravity than that of iron and strong corrosion resistance to seawater or chemicals, titanium is used, for example, for heat exchangers in factories or ships. Titanium alloys containing vanadium and aluminum are used for airplane engines for having two-to-three-time strength of that of pure titanium.
β-titanium, one of titanium alloys, features not only its strength but also its excellent processability. Through rolling or machining process, it can be transformed into various shapes, and can have the highest strength among titanium alloys through a proper heat treatment.
A β-titanium fine tube is so flexible like a bamboo, which can be easily bent with a hand. Recognized as a material having a high shape restoring function equivalent to that of shape memory alloys, β-titanium is expanding its applications such as eyeglass frames, car parts, or parts for medical and analytical instruments in these years.
Wide range of applicable fields for our β-titanium pipes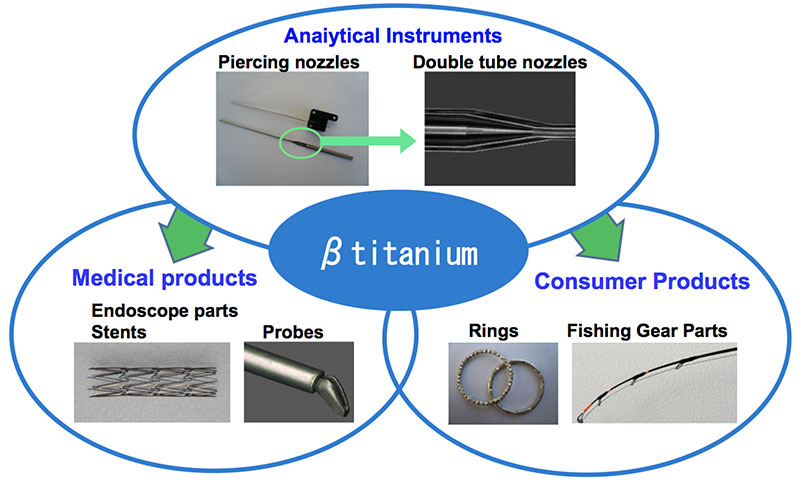 About components for;
medical use,
aerospace field,
eyeglasses,
ocean leisure instruments,
accessary,
sports goods,
audio-visual apparatus,
etc.,
please feel free to contact us. → Click Here!