F2901 coating.Water and oil repellent coating.

Surfaces of metals have characteristics that can fit easily into water, alcohol, oil and etc. For example: In case of surfaces wetted by alcohol, water drops are spread. As F2901 makes fluoric coating on metal surfaces, it can get the effects that keep all fouling such as waters, oils and etc off the metal surfaces.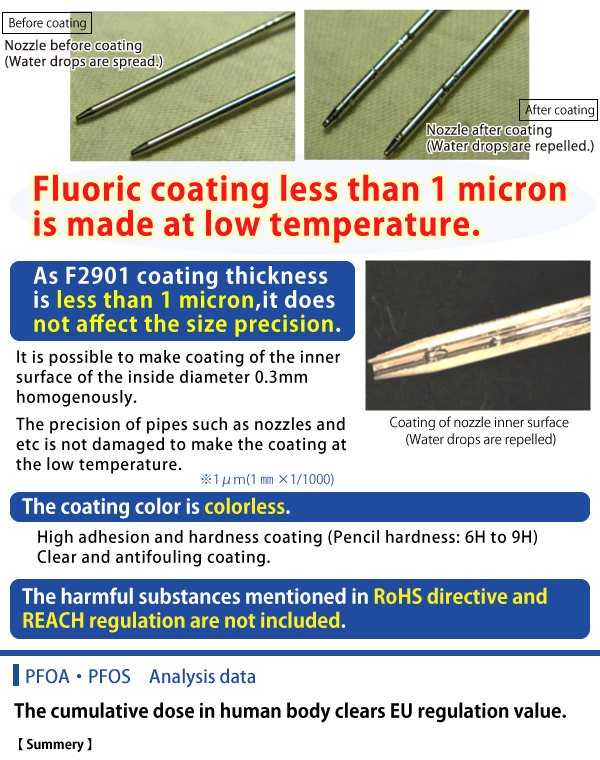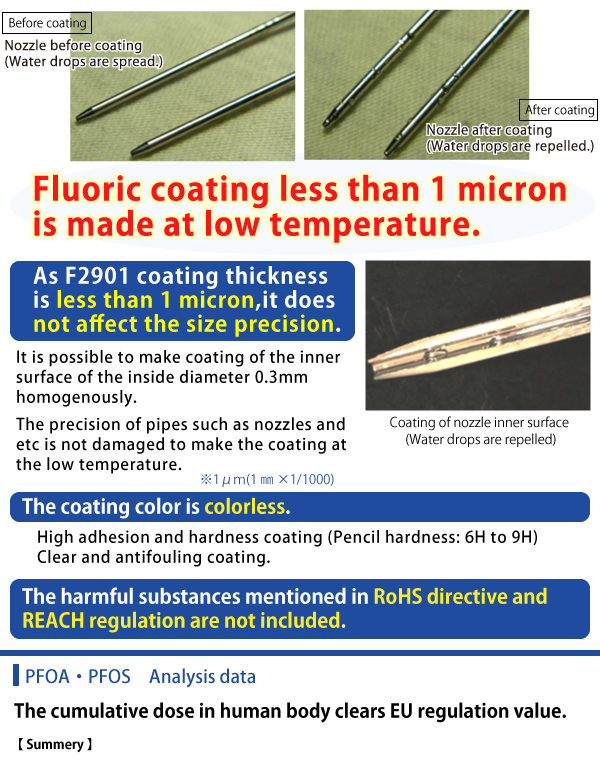 PFOA(perfluorooctanoate) and PFOS(perfluorooctane sulfonate)is the artificial organofluorine compound including fluorine. They are water-soluble but have properties to be accumulated in human body. The different regulation values per materials, surface treatments and products are set up in EU regulation. In order to confirm contents of PFOA and PFOS included in F2901 coating, the test result of concentrations measured by LC-MS(liquid chromatograph mass spectrometer and MS(Mass spectrometer) are as follows.As they clear the regulation values, there is no problem.


This video demonstrates how F2901 coating works.
The liquid dripping from the nozzle is alcohol.
Without the coating, liquid is sticking around the nozzle in general, so the droplet from the tip of the nozzle drips following the surface of the nozzle. (left side)
On the other hand, F2901 coating has great water and oil repellency.
The droplet from the coated nozzle never sticks around a tip of the nozzle, and has a beautiful granulated shape. (right side)
Using F2901 coating inside a nozzle, water and oil repellency can remove residual accumulating therein by air blowing easily, and increase efficiency of rinse and decrease contamination inside a nozzle.