F2901 coating.Water and oil repellent coating.
F2901 coating.Water and oil repellent coating.

Metal surfaces have originally a high affinity for liquids such as water, alcohol, and oil. A Water drop, for example, can easily spread over an alcohol-wetted metal surface. F2901 coating keep possible-fouling, such as waters, oils and other any contamination, off the metal surfaces by making fluoric coating over the surfaces.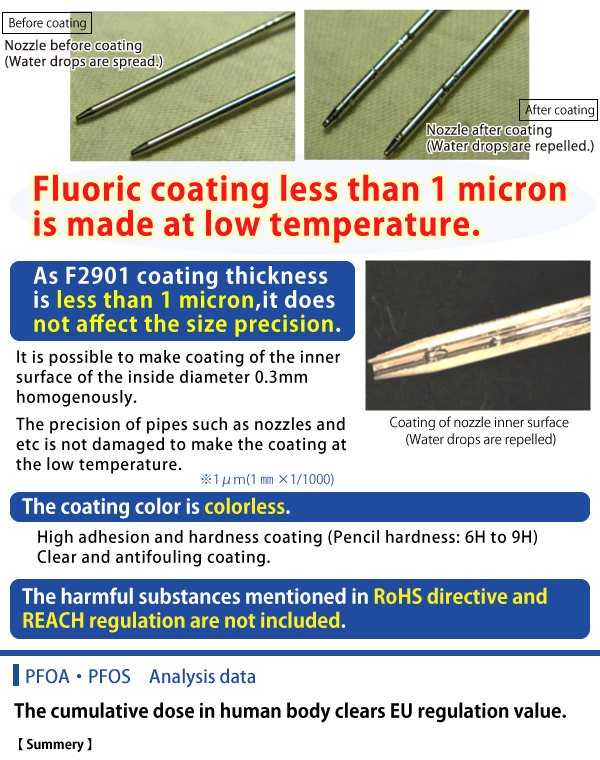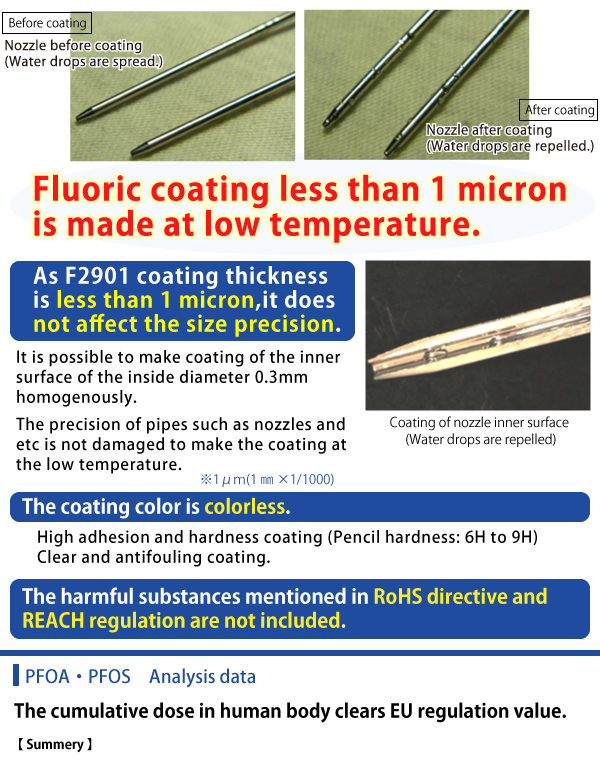 PFOA (perfluorooctanoate) and PFOS (perfluorooctane sulfonate) are an artificial organofluorine compound containing fluorine. They are water-soluble compounds that can be accumulated in human bodies. The EU regulation set up the different regulation values per material, surface treatment and product category. The table below shows the concentrations of PFOA and PFOS in F2901 measured by LC-MS (liquid chromatograph mass spectrometer and MS (Mass spectrometer), which are obviously below the EU regulation limits.


How F2901 coating works
The liquid dripping from the nozzle is alcohol. Without the coating, alcohol is sticking around the standard nozzle so that the droplet from the nozzle tip drips following the outer surface of the nozzle. (Left)
The droplet from the coated nozzle never stick around the nozzle tip, forming a beautiful granulated shape because F2901 coating has great water and oil repellency. (Right)
Coating the inside of a nozzle with F2901 can improve water and oil repellency so that the residual accumulating therein can be easily removed by air blowing and efficiency of rinse can be increased and contamination inside a nozzle can be decreased.