Teflon ® coating
Teflon ® coating
Teflon ® coating which has both water repellency and insulating property can be applied to inner and outer surfaces of a tube by our unique technique that accompanies great difficulty to obtain. Teflon coated nozzles or tubes enable to perform accurate analysis work stably.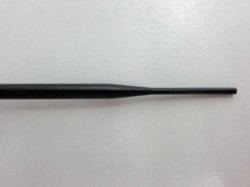 Teflon ® coating on the O.D. of a nozzle

Bore Teflon ® coating on the inner surface of a tube with 5 μm thickness. The minimum diameter is 0.3 mm, maximum length is approximately 200 mm.