Laser welding
Laser welding
FUTA-Q is equipped with YAG laser and fiber laser and several laser welders differing in spec. to meet various requirements.
Laser welding has a narrow width with respect to depth, enabling welding with high penetration efficiency.
In particular, continuous welding with a fiber laser machine can also produce smooth welded surfaces without overlap.
Laser micro welding technology
This section introduces the joining technology of laser welding of small diameter pipe for optical unit and thin SUS pipe.
Laser welding of thin-walled small-diameter pipes is easy to damage parts, and it can be finally realized by the ingenuity and depends on the skill of a technician who is familiar with the equipment.
[Welding process]
Laser welding is performed by linearly arranging SUS thin-walled pipes in the upper part of the optical unit pipe.
[Difficulty]
① Inside the pipe are Optical fibers for illumination and image, are inside the pipe, So it heat distortion occurs during welding,it may affect the photographed image.
② I want to finish out a clean outline of the pipe.
Initiatives and Points for Realization
① In small-diameter pipe welding using a laser beam machine, the laser beam width becomes narrower and penetrates deeper, Welding conditions must be set to avoid damaging the optical fibers.
② To make a fine, smooth and linear welding beam on a pipe machined surface.
Evaluation after welding
① The beam of the laser weld produced a beautiful finish.
② As a result of the photographing image confirmation of the optical unit, the effect by the heat caused by the welding was not observed.


Laser Welding of Two Half-Month Pipe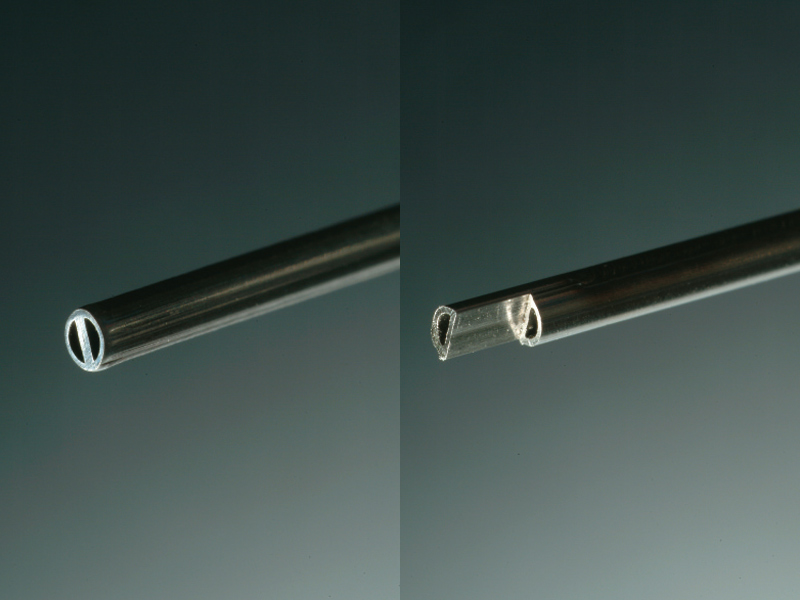 It is a technique for joining narrow pipes with injection needles, and the features do not have a conspicuous weld area. It is mainly used for hollow needles that absorb samples, and is ideally suited for products that require a 2WAY function of sending air from one of the pipes and absorbing samples from the other pipes. Various materials and shapes are available.
Y-shaped branch pipes of thin pipes (φ2.4×t0.25)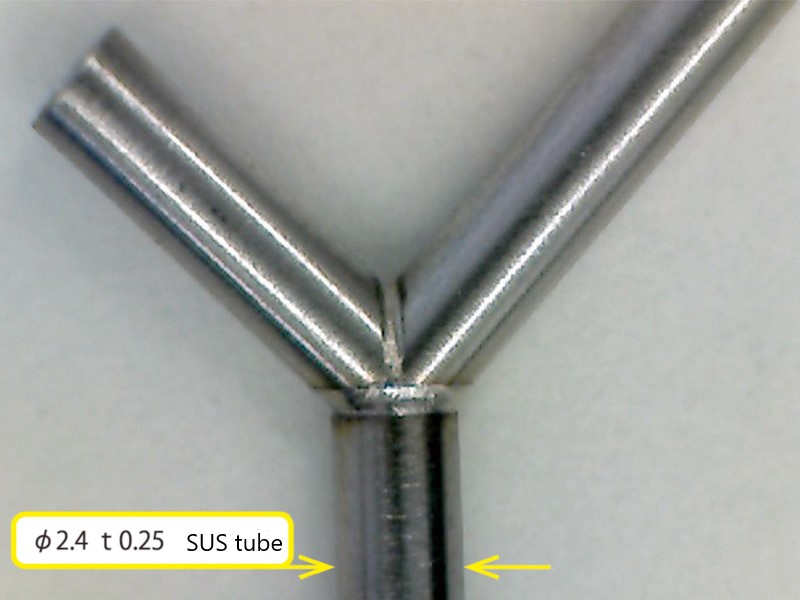 Laser welding is suitable for welding thin-walled pipes. A Y-shaped branch pipe has been completed by combining laser welding machines with cutting technologies.
Laser Welder Features
• Laser diameter minΦ0.016-
• Up to a weld depth of 1.0mm
• X-axis, Y-axis, and rotation directions can be moved.
• Fine spot welding is available