Campaign – You can try our beta titanium tubes –
Campaign – You can try our beta titanium tubes –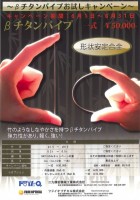 You can download PDF data as follows.
Campaign – Trial Beta Titanium tubes.pdf
Futaku has been running a trial beta titanium campaign from June 1 to August 31for a limited time. The price which we've offered for you is very reasonable. Why don't you take this chance and try a "Beta Titanium Tube", which is light, strong, elastic and flexible like a bamboo!?
Specifications
Outside diameter: phi1.0 – phi6.0 Wall thickness: 0.2t – 0.5t Steel grade: Only DAT51
*If you need the other steel tubes, contact us.
Length: 1m(about 39 inches)
*the tube looks black because of its material.
Delivery period: 1 month
Price: complete set(2 tubes) JPY20,000
*Not including sales tax and shipping charge
Optional extras: Bore polishing(Surface roughness: Ra0.8)
Complete set JPN20,000
Centerless finishing(Ra0.8)
Complete set JPN20,000