Dispensing Nozzle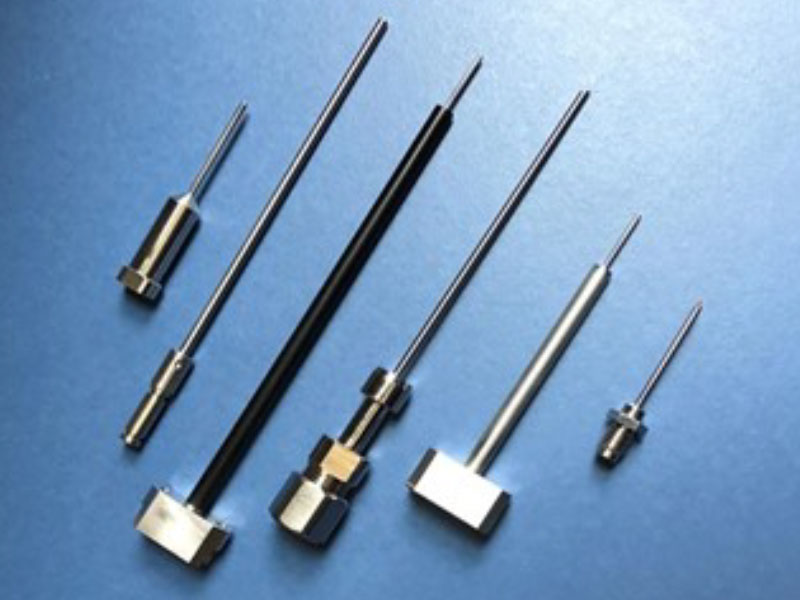 We can supply nozzle products manufactured to specifications on a custom basis; customized length, tip shape, and functions. We provide various types of nozzles, including a twin and triple nozzle.
Designing products is also available based on your schematic drawings.
Sample products of dispensing nozzle (Tapered tip type)

① Outer part
SUS304, SUS316, and SUS316L are available as the material.
SUS316L is most recommendable for its high corrosion resistance.
② Taper part
The standard line angle is 12° ±2. Smaller angles are available by making a custom die.
The smaller the angle, the less turbulence flow and resistance to dispense.
③ Tip part
straight cutting, obliquely cutting, or horizontal hole is available for a tip-end shape. Please refer to the page of "Needle Tip Shape".
④ Joint part
Laser welding is recommended for a part contacting with specimen, adhesion or brazing for a part separating from specimen. For the case requiring multiple methods, laser welding is recommended instead for lower cost.
⑤ Holder part
Clearance between the holder hole and nozzle diameter, and coaxially between the holder and nozzle are the critical points for a holder part.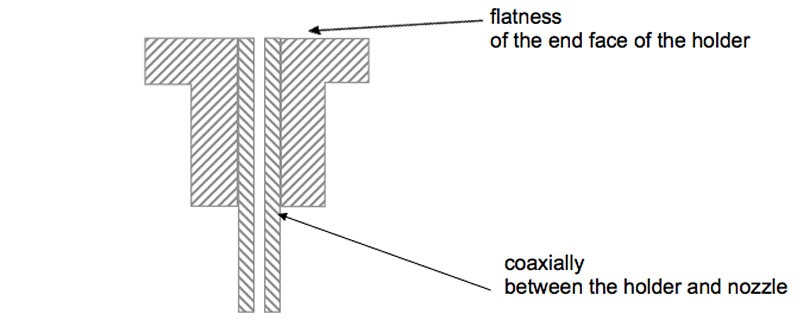 ⑥ Inner part
The inside surface of a nozzle may be washed off before reused to protect the specimen from being contaminated with other specimen previously used. For having less residue, inner-surface polishing can be applied. Especially, the inner surface of a tapered tip tends to have wrinkles so that inner-surface polishing is sometimes necessary for achieving the required specifications.
» >> Inner surface polishing
Twin and triple nozzle that can dispense and suck with eparated tubes are also available.