Lock screw for eyeglasses
Lock screw for eyeglasses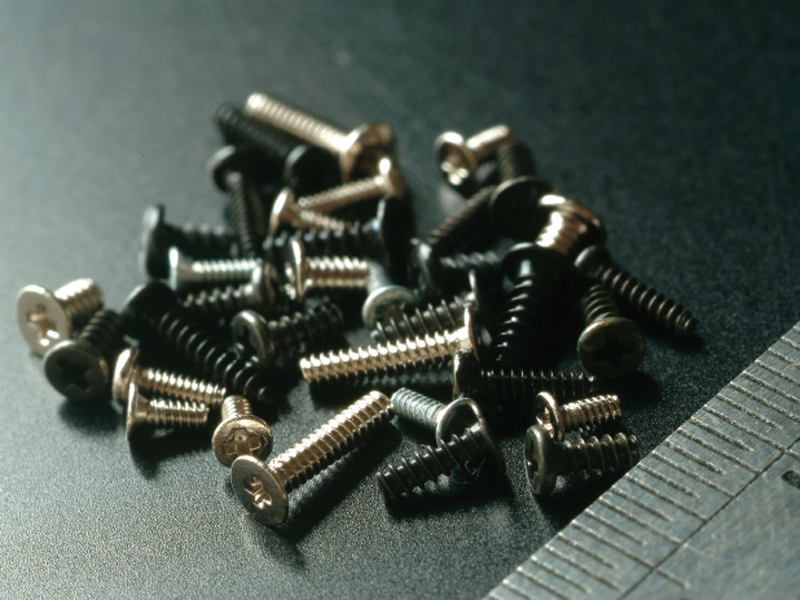 FUTA-Q provides special lock screws and titanium material for eyeglasses through our distributors. Not only in Japan but also overseas (mainly in Europe), our products are highly evaluated. Our various ingenuities on the screws have overthrown the common idea that an eyeglasses screw is to soon loosen.
Metal screws inevitably become loose by being shaken in use. By combining metal and plastic, FUTA-Q's screws enjoy the high friction between fastened parts to make the screws hard to loosen.
Ordinary screws of rimless glasses, especially, become loose soon, because they have only one each fastening position between parts so that the screws are heavily loaded. We offer various types of screw for resolving this problem.
RedN29 screw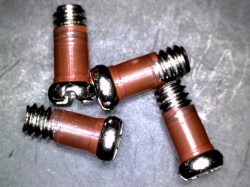 A part of this screw body is covered with red plastic by injection molding. Elasticity of this plastic prevents the screw from loosening.
Application: Hinges of glasses
Long lock screw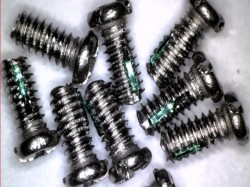 Nylon is press-fitted in a cut groove across a screw thread. When the screw is screwed in, the nylon deforms and increases friction torque by its wedge function. This provides great effect to prevent loosening.
Application: Fastening at vibrating or shocked position. Adaptable for where adjusting function is required.
Lamix screw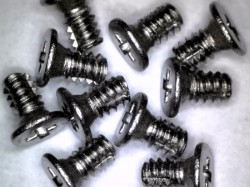 The screw head is only 0.2 mm high. Flat fastening (the fastening surface being nearly flat) with these screws can make products thinner and lighter. Fit lock processing is available for providing locking effect.
Application: when better appearance is required by less exposure of screw heads.