smallpipe
Materials for small diameter tubes (βtitanium,NiTi,SS)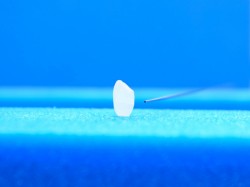 We focus on βtitanium, which combines 'lightness, corrosion resistance and restoring force,' and have developed our own processing techniques.
We have pursued 'minuteness and finess' and finally succeeded in manufacturing the first βtitanium tubes (OD 0.5mm, ID 0.3mm) in the world.
φ0.5×φ0.3 Extra fine βtitanium tubes
In addition, we also deal in Niti tubes which are hyperelastic and shape memory, and SS precision tubes that have been used for various applications, such as medical instruments. In order to productize them, we can perform various techniques, such as drilling, micromachining, laser processing, welding, bore polishing, and swaging.
Please feel free to contact us so that we can suggest the best small diameter tubes that meet your requirements, purposes, and budget.