Semiconductor related parts
Semiconductor related parts
To prevent leakage of a gas and liquid from semiconductor equipment, we are pursuing improvements in sealing performance of parts by combined cutting technique and seamless pipe welding technology.
Metal seal processing
The durable and highly airtight sealing is achieved by burnishing (smashing a metal surface to make it smooth) on sealing surfaces, making the surface hardness ≧Hv330 (C sealing), and making the surface roughness Ra0.04 or less.
Sealing process for various sizes is available.
TIG welding (by automatic pipe welding machine)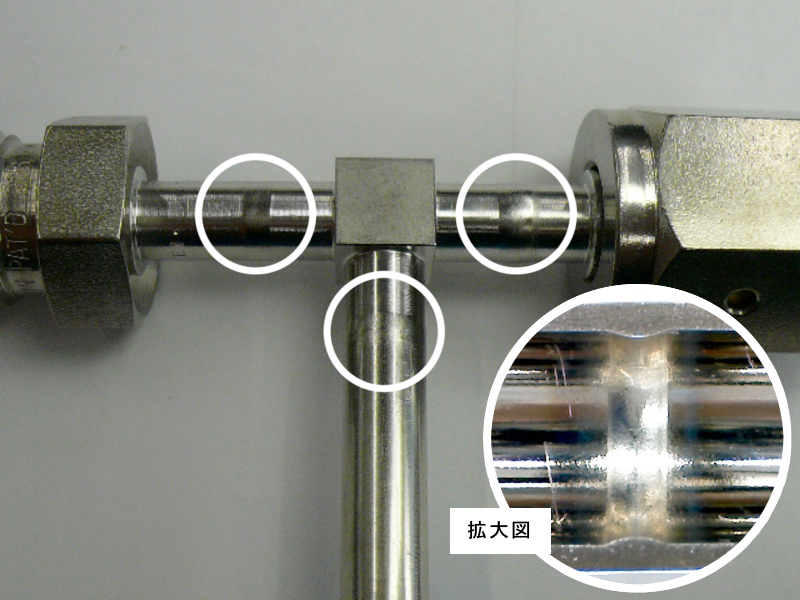 A T-shaped union joint and three pipes are butt welded by our automatic pipe welding machine. The inner surface through which a gas or liquid flows is provided with back bead so that no joint-mark or burning-mark is accomplished.
Welding in a clean room
Welding is called a special process in the ISO Quality Standard, because its quality depends on the skill of a worker. We assure stable welding quality by managing welding conditions and evidences. We maintain our welding environment in the best condition while digitizing the know-how of skilled welding crafts peoples into data.