Environmental report 2015
Environmental report 2015
Message from the President
---
As the global environment, politics and economics rapidly change, the issue of living environment has been revealed. We are now supposed to grasp environmental influence caused by nature power such as volcanic eruption, earthquakes, and torrential rain, and environmental destruction due to evolution of human lives, and take them seriously.
We recognize that one of the most important management issues is leaving the comfortable global environment for future people by reducing burden on the environment throughout the business activities and we do our absolute best.
We herein report our environmental protection activities and their outcomes in 2015.
---
Sincerely,
Ryozo Futaku
President
June 17th, 2016
Environmental Policy 2015
---
Basic Principles
We strive to gain a deeper understanding of the importance of environmental conservation which is one of the highest priority worldwide issues, and continuously make an all-out effort for the reduction in environmental burden.
Policy
We make continuous efforts
1. We comply with environmental regulations and other agreed requirements.
2. Among environmental influences which are related to our business activities, products, and services, we mainly focus on the factors below, and enforce eco-friendly corporate activities.
   a. Resource saving and reduction of environmental burden
   b. Reduction of waste and recycling
   c. Maintenance management system of chemical substances contained in products and observance of regulations and laws
   d. Prevention of environmental contamination by control of harmful chemical substances
   e.  Enlightenment activities and environmental events (e.g.: clean-up activities in factories and the periphery, volunteer activities)
3.We fully disseminate this policy and to the employees and the public so that everyone can practice this policy.
4.We willingly join in regional environmental improvement activities.
In order to accomplish the policy mentioned above, we set environmental goals and make its achievement plan. We also promote and reevaluate the environmental management system.
---
the date of enactment April 1st, 2015
FUTA-Q, Ltd.
The President, CEO Ryozo Futaku
Corporate Profile
---
1. Company Name: FUTA-Q, Ltd.
2. Address:
Headquarters
33-3, Karahashi-keiden-cho, Minami-ku, Kyoto city, Kyoto pref. 601-8454
Kyoto Factory/R&D Center
20-1,Kishoin-Uchigawara-cho, Minami-ku, Kyoto city, Kyoto pref. 601-8392
Yagi Factory
8-1, Oyabu Shimokawaharada, Yagi-cho, Nantan city, Kyoto pref. 629-0152
3. Business Outline:
Developing and manufacturing parts of precision instruments for various industrial fields. (e.g.: flow quantity control device for semi-conductor process gas, industrial analysis device, medical analysis device, analysis device for engine exhaust gas, pumps, device for resin molding, glasses)
4. Representative Directors
Chairman of the Board: Hirokazu Futaku
President and CEO: Ryozo Futaku
5. Capital:  ¥30million
6. Employees: approximately 160
   7. History
  Mar.1917 Founded as a solo proprietor in Shimogyo-ku, Kyoto city
  Sep. 1975 Renamed as Futaku Precision Machinery Industry Company, and increased the capital to 4.5 million yen
  May. 1986 Yagi plant completed
  Jan. 1987 increased the capital to 30 million yen
  Jun. 1998 Yagi plant received certification of International Quality Assurance System ISO 9002.
  Feb. 2003 Acquired ISO 9001:2000 certification (Headquarters and factories)
  Dec. 2004 Yagi plant received certification of KES environmental management standard step2.
  Apr. 2009 Former President Hirokazu Futaku became Chairman, and former Vice President Ryozo Futaku became President and Representative Director
  Jun. 2009 A laboratory at Kyoto University Katsura Campus Venture Plaza launched
  Dec. 2009 Acquired ISO 9001: 2008 certification
  May. 2010 built and moved to new head-office building
  Dec. 2012 Kyoto Plant/ R&D center established
  Jul. 2013 Acquired ISO 14001:2004 certification (Headquarters and factories)
---
1.Organization Chart of Environmental Management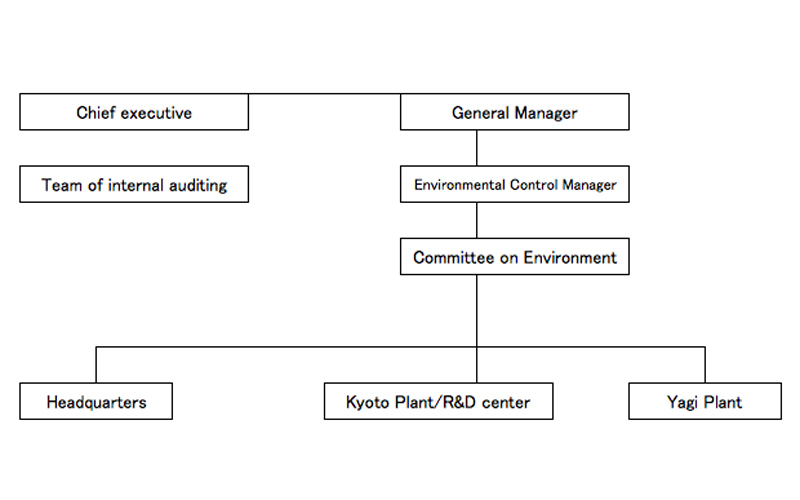 2.The Contents of ISO 14001:2004 certification
First registration date:July30th, 2013
Registration number:C0166312-EM1
3.Some examples of specific environment improvement activities
  1 ) Every branch endeavored to save resources, such as electricity, gas, and oil, and reduce CO2.
  2 ) In order to maintain safe workplace and reduce the use of chemical substances, dichloromethane, we conducted education and coaching how to wash properly and maintain washing machines at Yagi factory.
  3 ) Every branch planed and conducted cleaning events in which employees clean inside factories and the periphery.
  4 ) The Committee of Environment organized some eco events, and conducted enlightenment activities.
4.Status of environmental compliance, complaints, and litigations
About environment related regulations, we investigated which regulations we needed to obey, and checked if everyone would follow them every year. In addition, we submitted the report of environment preservation activities.
Then, we did not receive any complaints nor litigations from other organizations and citizens.